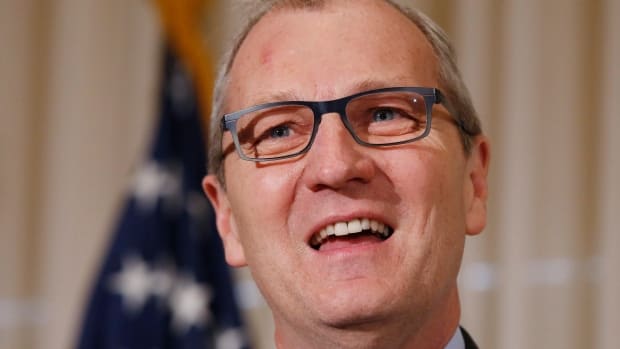 [ad_1]

U.S. President Donald Trump isn't playing around — and Canada should brace itself for new tariffs on autos, U.S. Congressman Kevin Cramer warned this week.
"We have to take him at his word," Cramer, a Republican from North Dakota, told CBC Radio's The House on Friday.
Trump simultaneously withdrew his government's approval of the G7 communiqué and floated the idea of slapping 25 per cent tariffs on autos from Canada after Prime Minister Justin Trudeau's post-G7 summit news conference, during which the PM repeated his government's message that Canada would not be "pushed around" by the United States.
Canadian retaliatory tariffs in response to U.S. tariffs on steel and aluminum come into effect July 1. Senior government officials are quietly drawing up a list of ways for Canada to retaliate if it's hit with even more tariffs by its closest ally.
No matter what threats emerge from Washington D.C., Ralph Goodale, Public Safety minister and vice-chair of the cabinet committee on U.S.-Canada relations, said Canada's position remains unchanged.
The dollar-for-dollar tariffs looming from Canada will be imposed "more in sorrow than anger," he said.
"We've been very clear that whatever the tactics from the other side, we will stand firm."
Goodale said the federal government will continue to engage in "a very vigorous dialogue" with Washington, but it won't
"engage in ad hominem rebuttals."
The president is pushing his 'America first' message on the trade file, Cramer said — and he'll sign a deal when it looks like a win for Americans. Whether such a deal would work for the other two NAFTA partners remains unclear.
Trump also has pushed the idea of negotiating bilateral deals instead of the three-party NAFTA, but two European ambassadors to Canada told The House it's important — both within North America and internationally — to continue to fight for larger trade deals.
"We have no choice but to stick to multilateralism," French Ambassador Kareen Rispal told host Chris Hall, acknowledging that Trump clearly has problems with that notion.
German Ambassador Sabine Sparwasser agreed, adding that tariffs and trade wars hurt Americans too.
More than 850,000 German cars are produced in the U.S. annually and about half of them are exported after assembly, according to VDA, Germany's automotive industry association.
"Tariffs would not just hit Germany. They would hit the American workers," Sparwasser said.
Duties a dangerous game to play with allies
Cramer said that while he agrees with the sentiments motivating the tariffs, it's a dangerous game to play.
"We need to be very careful how we use tariffs, particularly with our allies," he said.
Republican Sen. John Hoeven agreed that the tariffs are presenting challenges — especially when it comes to moving forward on NAFTA — but said he's confident there won't be any lasting impact on cross-border relations.
"No one has a stronger bond than the United States and Canada," he said.
In meetings he had with Trump prior to the G7 summit, Hoeven said, there was a sense that NAFTA was on a good path, though he wasn't sure what that deal could look like in its final form.
The 'G6 plus one'
Leaders from the nations present at the G7 summit expressed their frustrations over the trade disputes to Trump at the meeting.
Though the messages didn't lead to an immediate repeal of the tariffs, the two European ambassadors are both hoping things won't escalate further.
"We are not willing to have a trade war," Rispal said.
However, the ambassadors also acknowledged that we could be at a turning point where the U.S. begins to find itself excluded from some international meetings.
"On some points it's going to be a G6 plus one," Rispal said.
When lines have to be drawn, it could be time for the remaining G7 nations to reinforce cohesion, Sparwasser said.
"When the Atlantic seems to be getting wider, I do believe there's a strong merit in having the Europeans, together with Japan and Canada, come together on the most important issues," she said.
[ad_2]