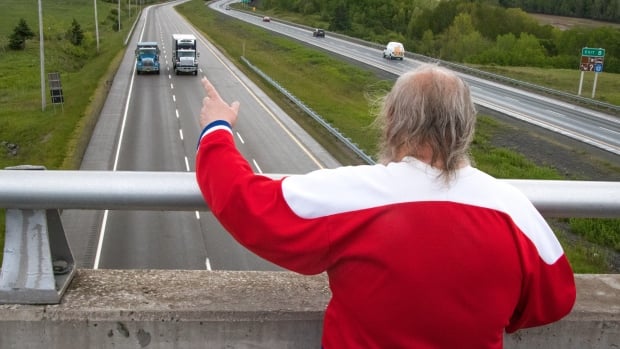 [ad_1]

The king of the Freddie Wilson Overpass isn't dead.
When a photo of the pride of Hanstport, N.S., appeared on Facebook last month, there was skepticism about whether he was really alive. A recent obituary for a Freddie Wilson, a man of a similar age, only added to the mystery.
Wilson is quick to set the record straight.
"I'm not dead yet," the 64-year-old said during an interview in his hometown. "I'm still alive and kicking."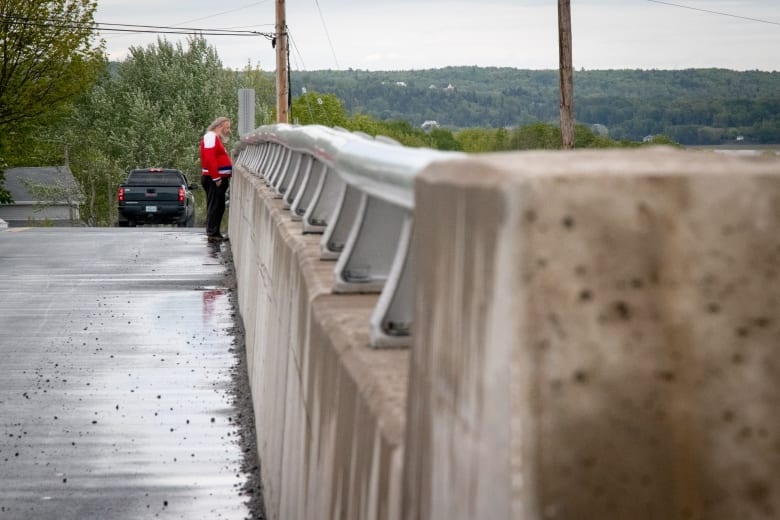 The solitary figure can still be seen from the overpass. (Emma Smith/CBC)
Up on the overpass, which crosses Highway 101, birds sing over the whir of passing cars and occasional honks from horns. Rolling green hills stretch to the horizon and a small lake and red barn in the distance make it seem like an impressionist painting.
Wilson stands close to the railing, his feet firmly planted, peering expectantly over the edge. 
Locals and commuters alike feel an attachment to the solitary man who's spent the last 48 years waving to cars from the overpass that now bears his name.
Some people wondered if Wilson had died since he doesn't get out to the overpass as regularly. (Rob Short/CBC)
"People have asked me … is he all right? Is he in the hospital? Is he dead?" said Peter Wilson, Freddie's younger brother. "And I'm going, 'No, no.' Like I have to explain that he's older now and he just doesn't get out as much anymore."
Anyone who's driven the stretch of Trans-Canada Highway between Windsor and Wolfville has likely seen Wilson.
His consistency has become the stuff of Nova Scotia legend. He has a song written about him. Cartoonist Michael de Adder has sketched him. An Alex Colville painting, West Brooklyn Road, is said to be inspired by him.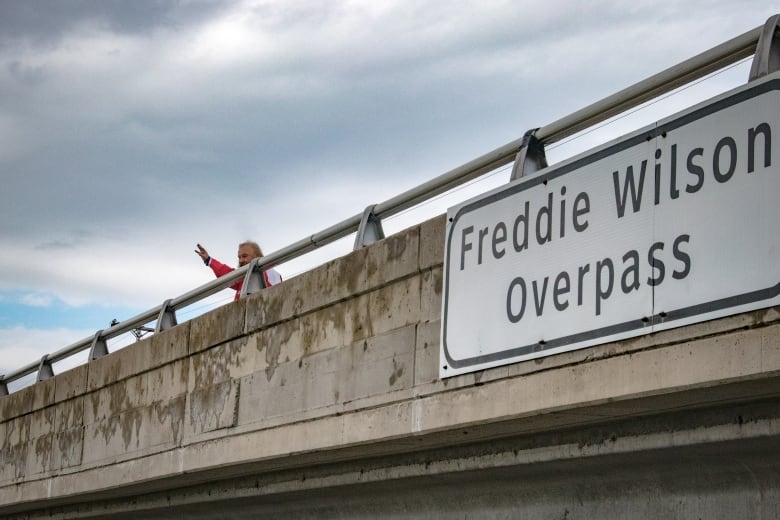 The overpass was named in Wilson's honour about a decade ago, when the community rallied to coax the province to install a sign. (Rob Short/CBC)
The two Wilson brothers live just down the road from the overpass.
One day, on his way back over the crossing from visiting a neighbour, Freddie Wilson started waving to the cars and trucks below. 
Some honked their horns back and Wilson was hooked.
That was when he was 16, shortly after he returned from a school in Truro, his brother said. 
"I just started, and I kept right on going," Freddie Wilson said. "I'm going to keep going until they tell me not to."
Bob Bird, a neighbour, said Wilson might not get out as much as he once did, but he still sees him most days.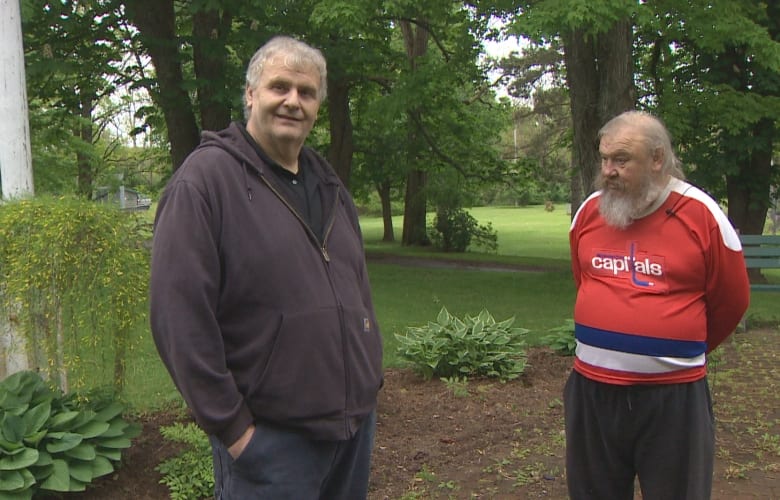 Wilson lives with his younger brother, Peter, not far from the overpass. (Rob Short/CBC)
"I can always tell when Freddie's on the overpass because I hear the horns going steady at my place," said Bird.
He moved in next door to the Wilsons more than a decade ago. The elder Wilson showed up to introduce himself the very first day, and he's been stopping by to say hello — or remind him it's garbage day — ever since.
Bird calls Wilson "Hantsport's ambassador."
"I just think of the [Annapolis] Valley whenever I see Freddie," he said. "I think it reminds people of home."
Warden Abraham Zebian says many people have grown up with Wilson. "He's a nice guy. He's just an honest, nice, regular guy," he says. (Rob Short/CBC)
As much as Wilson is loved by the people who drive by, he means something special to those who've grown up in the community, Abraham Zebian said.
Zebian, warden of the Municipality of the District of West Hants, remembers being eight or nine years old and playing hockey with his friends when Wilson asked to join in.
"For me, that was 30 years ago and we still remember that," he said. "It's a part of us. It's a part of our growing up, and everybody I think has a similar story with Freddie."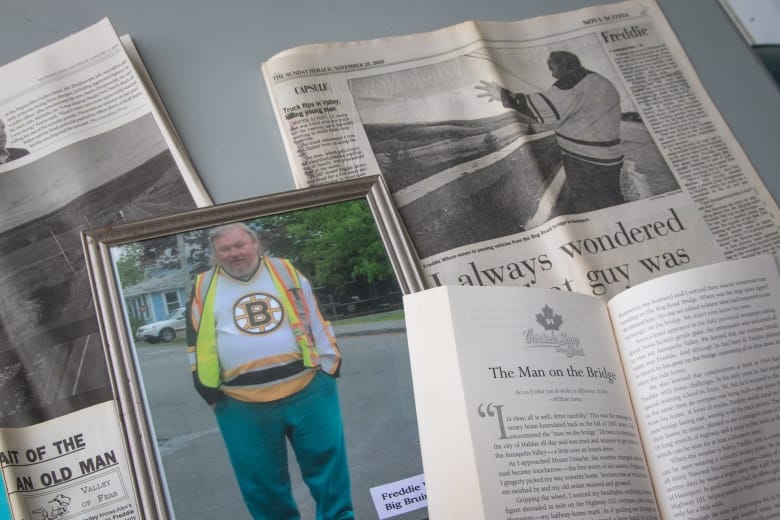 Wilson has become somewhat of a celebrity, earning recognition in book, song and painting. (Rob Short/CBC)
It was members of the community that eventually led the overpass to be named after Wilson, Zebian said. People started lobbying online, and soon former MLA Ramona Jennex asked the province for a sign.
A spokesperson for the Department of Transportation said even though it was a "unique and unusual" request, two signs were made in 2010 and installed.
It's a rare honour, said Peter Wilson, one usually reserved for dignitaries or for people who are actually dead, not just rumoured to be.
Cartoonist Michael de Adder's ode to Wilson. (Rob Short/CBC)
Peter Wilson said people have even pulled off the highway just to get a photograph with the man on the overpass.
"Didn't bother me," said Freddie Wilson. "They just asked. I said, 'Go ahead. Take all the photos you want.' I had one stop yesterday and get a picture of me."
Sometimes people bring him gifts. He's come home with a portrait sketched by a local artist and a copy of Chicken Soup for the Soul with an inscription from the author, who wrote a story about him. 
Wilson is focused when he's on the overpass and keeps a special eye out for trucks. (Rob Short/CBC)
Ask Freddie Wilson what he thinks of all the attention, and he'll smile and shrug in his Washington Capitals jersey.
"It might peter off a lot as he gets older and older and older," said Peter Wilson. "I guess eventually there will come a time when he won't go at all, eventually. I suppose they'll miss him, and the rumours will fly that he's passed away or whatever."
But when Wilson is asked what he'll do when he's no longer able to walk to the overpass, he responds bluntly: "Probably go back up and still do it."
To him, the overpass is home. "I like everything up here," he said. 
Sometimes, Wilson will raise his entire arm to passing cars but more often it's just his wrist through the railing, twisting back and forth — it's a small gesture, so small you wonder how anyone notices.
But down below, all the drivers are looking up.
Read more stories from CBC Nova Scotia
[ad_2]