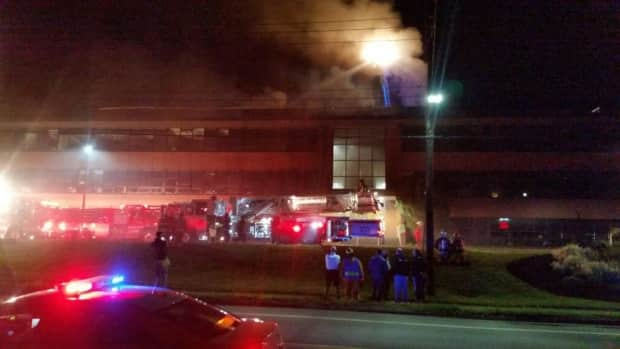 [ad_1]

Firefighters worked into the early-morning hours Thursday to battle stubborn, two-metre flames shooting from the main building at Dalhousie University's Agricultural Campus in Bible Hill, N.S.
The blaze broke out before 10 p.m. Wednesday in the roof of the main campus building, called the Cox Institute, located on Pictou Road. The road was closed off and power was cut to the area as a precaution.
Final-year masters student Seun Esan told CBC News he was concerned about losing his research material. (Submitted by Catherine Burgess)
The top floor of the university building was filled with smoke and multiple fire crews tried to keep the flames at bay, but bright-orange tongues of fire could be seen emanating from the top floor as a growing number of onlookers gathered at the scene. The flames were still visible hours after the fire broke out.
It is believed there was significant damage. Final-year student Seun Esan told CBC News he was concerned about losing his research material inside the Cox building.
"I'm a graduate student, I'm wrapping up my masters program and I do a lot of writing in the building," said Esan, gesturing at the flames.
"I'm really worried," he added.
​Crews and engines from Bible Hill, Onslow, Belmont and other surrounding communities were called to the scene and trucks could be seen bringing extra water to crews, some of whom wore breathing masks.
Responding crews asked for backup and Truro Fire Service said it was available to help.
Not the first fire
It's the second fire to hit Dalhousie's agricultural campus in less than three years.
In August 2015, fire damaged the Ruminant Animal Centre, with smoke billowing from the 10 silos attached to the building.
The roof was compromised in several places but all staff and animals were safely evacuated.
[ad_2]