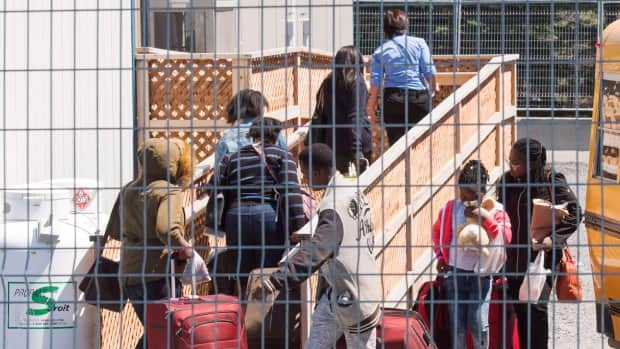 [ad_1]

A Winnipeg immigration lawyer wants Canada to suspend an agreement with the United States that prevents asylum seekers from applying for refugee status here if they have already done so in the U.S.
The crisis sparked by the U.S. administration's policy of separating children from their parents when they cross the southern border without going through a regular entry point illustrates how the country no longer has adequate due process for asylum seekers, said Alastair Clarke.
"I hear on a daily basis of refugee claimants who are being put into detention, they're being put into prisons, in general population, with the only reason being that hey have crossed into the United States without a valid passport or possibly without a valid travel document," Clarke said during an interview on CBC's Information Radio.
Last week, Clarke had a man in his office with his two-year-old daughter, who had been detained and separated from her mother after they crossed the border from Tijuana, Mexico into the U.S. They are originally from Ghana, and the girl's mother was deported back to that country.
"And this two-year-old daughter is screaming. She doesn't know what's going on, she is here with her father who never expected to be a single father going through this process. And it's just heartbreaking," Clarke said.
Trump signs order to keep families together
More than 2,000 children were separated from their parents between April and May, after the U.S. administration adopted a "zero-tolerance" policy and criminally prosecuting anyone crossing the border between entry points.
People gather for a rally organized by local families, their supporters and civil rights organizations on the steps of City Hall in Los Angeles, California on June 7, 2018, to protest the federal government's enforcement policy to seperate children from their parents trying to cross the US-Mexico border illegally. (Frederic J. Brown/AFP/Getty Images)
Images of detention centres filled with children and stories of families ripped apart sparked international outcry. Canadian Prime Minister Justin Trudeau spoke out, saying, "What's going on in the United States is wrong."
Hours after Trudeau spoke, U.S. President Donald  Trump signed an executive order pledging to keep migrant families together.
Speaking to CBC Wednesday morning before Trump signed the order, Clarke said he's been advocating for the suspension of the Safe Third Country agreement for more than a year.
Calls to scrap the agreement came after Trump issued an executive order shortly after being sworn into office, barring citizens of seven Muslim-majority nations from travelling to the U.S.
The order caused chaos at airports across the country. In the period since, Canada has seen a sharp uptick in asylum seekers walking across the border.
The agreement, signed in 2004, mandates that asylum seekers that have already filed for refugee status in the U.S. be sent back there if they try to come to Canada. The agreement only applies to people who come to regular ports of entry, however, creating an incentive for people to cross irregularly, said Abdi Ahmed, a former refugee from Somalia and director of the Immigration Partnership of Winnipeg.
The fact that U.S. Attorney General Jeff Sessions recently announced that women fleeing domestic violence will not be eligible for refugee status, and the fact that that U.S. is the only county in the world not to ratify the UN Declaration on the Rights of the Child, are also reasons to scrap the Safe Third Country Agreement, Abdi said.
"The agreement is premised on two partners, both providing due process for refugee claimants. If one of the partners is not providing the necessary process to the refugee claimants, it just makes sense that you either suspend or withdraw from this Safe Third Country Agreement," Abdi said to Information Radio host Marcy Markusa.
Agreement under review
Immigration Minister Ahmed Hussen has said that both Canada and the U.S., along with the UN's refugee agency, are conducting ongoing analysis of the Safe Third Country Agreement. In the past, the minister has said the 14-year-old agreement is working in Canada's interests but should be modernized.
Minister of Immigration, Refugees and Citizenship Ahmed Hussen speaks to reporters outside the House of Commons on Parliament Hill on Thursday, May 31, 2018. (Patrick Doyle/THE CANADIAN PRESS)
According to data provided to CBC News by Immigration, Refugees and Citizenship Canada, 1,949 asylum seekers were turned back at official border points in 2017 — were refused entry to Canada under the STCA.
That's up dramatically from previous years. In 2016, 731 were refused; in 2015, 418 were turned away and in 2014 just 456 were denied entry.
NDP immigration critic Jenny Kwan said the developments south of the border underscore the fact that the U.S. is no longer a 'safe third country'.
She called it "astounding" that the Liberal government would consider keeping Canada in an agreement with a country that is flagrantly flouting international law on the rights of refugees and children.
[ad_2]