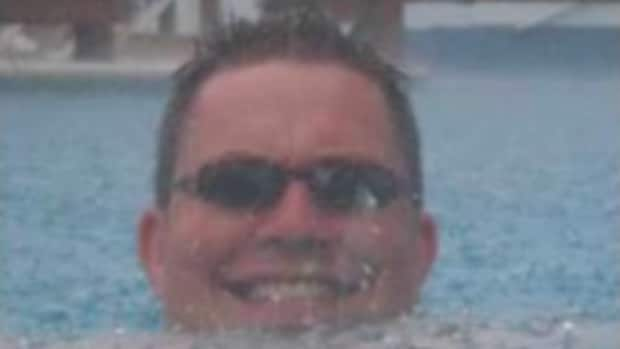 [ad_1]

Calgary father Ian Patrick Wilson had a secret collection of vulnerable teenage victims — three 15-year-old girls — whom he preyed on sexually after meeting them over the social media app Whisper, court heard Wednesday.
Justice Willie deWit sentenced Wilson to six years in prison after the 40-year-old pleaded guilty in February to sexual assault, luring and sexual exploitation. 
"People should not have to worry about others exploiting their children over the internet," said deWit.
Wilson has six children, at least one of whom is older than his victims.
Prosecutor Donna Spanner had asked the judge to impose a seven-year prison sentence while defence lawyer Balfour Der proposed a five-year term. 
Wilson demonstrated "extreme luring behaviour, extreme grooming behaviour," when he preyed on the girls, said Spanner.
In 2016, when Calgary police showed up to arrest Wilson for having sex with a 15-year-old he'd met over Whisper, officers discovered another teen is his bedroom, court heard Wednesday.
The girl found in the bedroom had become estranged from her parents and was under the care of Alberta Child and Family Services. Wilson knew how vulnerable she was, according to an agreed statement of facts read aloud in court on Wednesday.
Through their investigation, police learned that between August 2015 and March 2016, Wilson had preyed on the three 15-year-olds, whose identities are protected by a publication ban. 
The victims were each 15 at the time of the crimes while Wilson was 38- to 39-years-old. In each case, he met his victims over Whisper, which allows users to post and share images and videos anonymously.
One victim suicidal
Two of the victims were in court on Wednesday. 
One of the teens described feelings of worthlessness, guilt and wrote about her thoughts of suicide.
In May 2016, the first teen reported Wilson's assaults to a police detective. She told the officer that in the fall of 2015, she posted on Whisper that she was desperate for money.
Wilson responded, picked her up and drove her to his townhouse in the southwest community of Woodbine where there was "sexual contact" twice in the coming weeks between the two.
In August 2016, Wilson was arrested, released on bail and placed on a number of conditions.
3rd victim found in bedroom
Three months later, another 15-year-old girl called police and told officers that eight months earlier she had been sexually assaulted by a man she'd met on Whisper.
The girl had exchanged hundreds of text messages with Wilson before he invited her to his home.
The two had sex and she immediately regretted it. She tried to cut off contact with Wilson, telling him she was only 15.
Despite being 38 at the time, Wilson told the teenager he was a decade younger, and after hundreds of messages she returned to his home where there was further sexual interaction.
When police arrived at Wilson's home to arrest him, a 16-year-old girl was in his bedroom. She told police she'd been in a sexual relationship with Wilson since she was 15-years-old.
Weeks later, during an interview with police at the Sheldon Kennedy Child Advocacy Centre, the girl said she'd posted a profile on Whisper advising that she was looking to buy marijuana. Wilson answered her ad.
She told him she had no money but "he invited her to pay for the marijuana provided with sexual favours."
The two met eight to 12 times and exchanged sex for marijuana.
The girl began spending the night at his home and he would encourage her to skip school.
---
Read more articles from CBC Calgary and like us on Facebook for updates.
[ad_2]