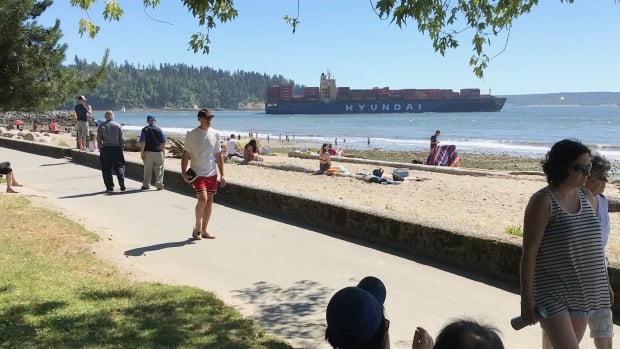 [ad_1]

More than two dozen temperature records were broken on Monday as the first heat wave of the summer continued to build across B.C.
The 27 daily records set on Monday included:
Agassiz, 31 C
Comox Airport, 33.8 C
Nakusp, 33.3 C
Osoyoos, 33 C
Pemberton, 37.4 C
Port Alberni, 34.6 C
West Vancouver, 32.6 C
The hottest spot in the country on Monday was Lytton at 37.8 C, but that was not listed as a daily record for the village.
A lifeguard gets a break from the sun at Kit Pool on Monday. (CBC)
Tuesday a little cooler, more humid
For Tuesday, heat warnings and special weather statements remained in place for much of B.C. as a high-pressure system continued to blanket much of the province.
CBC meteorologist Johanna Wagstaffe said afternoon highs would be a degree or two cooler than Monday.
"There's a little more humidity. Get ready for another muggy evening with more falling records," said Wagstaffe.
West Vancouver hit a daily record high of 32.6 C on Monday. (Mike Laanela/CBC)
Temperatures will reach the low 30s Tuesday and Wednesday, which is at least 12 C above the average for the middle of June.
Thunderstorms possible
"There is a little more instability in the atmosphere today as well. We may end up with some afternoon cumulus clouds and a rogue mountain thunderstorm is not out of the question," Wagstaffe said.
"And there is an even better chance of thunderstorms tomorrow afternoon for the B.C. Interior, where the fire danger risk is increasing."
Temperatures are expected to drop on Thursday as the high-pressure ridge breaks down but the weekend and beyond it still looks warm, said Wagstaffe.
Environment Canada and the Lower Mainland Medical Health Officers expect an increase in health and safety risks from heat and are advising the public to take precautions.
On Tuesday, BC Hydro said the warm weather has led to an increase in demand for power.
The utility said the province could break demand records for the month of June if the heatwave continues.
The increase in electricity use is attributed to customers turning on fans and air conditioners, as well as refrigeration units working harder to stay cool.
Read more from CBC British Columbia
---
[ad_2]