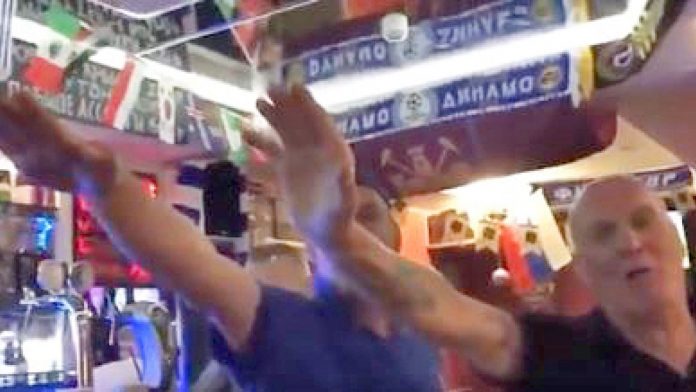 UK police are working to identify men caught on video giving Nazi salutes in a Russian bar during the World Cup.
A video showing at least two men performing Nazi salutes in reference to Premier League club Tottenham's Jewish heritage has circulated online.
The clip also reportedly shows England fans singing an anti-Semitic song in a bar in Volgograd.
The Football Association has condemned the actions in the video and now detectives are looking to identify two of those involved.
The event took place in a southern Russian city which was the venue of England's 2-1 win over Tunisia on Monday.
Volgograd was formerly known as Stalingrad, where one of the bloodiest battles in history occurred when Soviet soldiers pushed back Hitler's army during the Second World War.
Detective Superintendent Caroline Marsh, UK police investigations lead for the World Cup, said: "The abhorrent behaviour seen in this video is completely unacceptable and it will not be tolerated.
"Our investigation team in the UK is already making swift inquiries to identify those involved and will seek to take all appropriate action against them."
Sky News understands that although the UK police have no powers in Russia, they are thought to be working with the Russian police and could pass on any relevant information to them.
The UK police will also be checking to see if any action will need to be taken upon the men's return to Britain.
This could be, for example, if any of the men are in breach of a banning order which prevents them from flying overseas for games.
On Wednesday, a spokesman for the FA said: "We strongly condemn the actions of the people in this video.
"We are working with the relevant authorities, including the UK police investigations team, who are making inquiries to identify the individuals involved and take appropriate action.
"The disgraceful conduct of the individuals in this video does not represent the values of the majority of English football fans supporting the team in Russia."