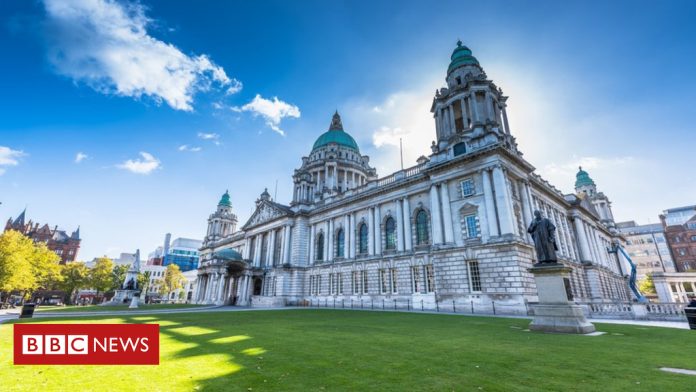 [ad_1]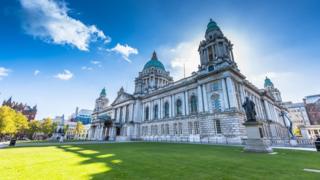 Councils in Northern Ireland need more powers to break the political logjam and boost the economy, a report has said.
The report, commissioned by the NI local government association (Nilga), said "the time is right" to extend the responsibilities of local government.
'Devolution within Northern Ireland' is authored by the independent New Policy Institute.
It said councils should be the new "hub of public services".
Transport, planning, regeneration, the environment and business development were among the areas which the report said could be taken on by councils.
"Councils here – as in England, the Republic of Ireland, Wales and Scotland – could have direct responsibility for services and, like elsewhere, undertake scrutiny of matters which remain the direct responsibility of the NI Executive or its agencies," the report noted.
It pointed out that councils were responsible for less than 4% (£738m) of public spending in Northern Ireland in 2015/16, compared with 27% in Scotland and Wales.
It added that the executive's 88% share of total public spending was more than double that of the Scottish and Welsh governments.
"Neighbourhood services are the New Policy Institute's main candidates for devolution to councils, which cover local highways and transport, cultural and related services, environment, regulation, planning and regeneration, plus business and skills development," it said.
'Scrutiny'
"At present, councils are responsible for under half of them. If they took them all, they would be responsible for just 7% of total Northern Ireland public spending.
"Councils could also exercise scrutiny over areas of spending, for example aspects of social care and public health, which remain the responsibility of the executive or its agencies."
Derek McCallan, chief executive of the Northern Ireland local government association (Nilga), said: "It must be recognised that to keep Northern Ireland moving forward, greater devolution of responsibilities, with proper financial resourcing, must be put on the table – not just as the antidote to current paralysis, but to strengthen democratic input by local people in the longer term in terms of how we spend £21 billion per annum."
In May Green Party NI leader Steven Agnew said local councils should be given more powers in the absence of devolution.
[ad_2]