[ad_1]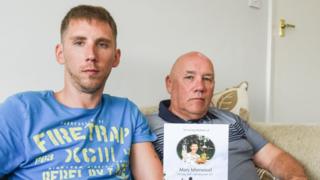 The family of a woman who died after getting trapped in an airing cupboard have said sitting through her inquest brought back painful memories.
Elizabeth Isherwood, 60, was found dead at Plas Talgarth Country Club near Pennal, Gwynedd, a week after arriving.
The ex-policewoman's naked body was found when workers noticed a hole in a plasterboard wall she had tried to break through.
A coroner recorded a conclusion of misadventure at a hearing this week.
Mrs Isherwood's son Craig believes his mother got stuck when taking a wrong turn after using the en-suite bathroom at night.
He said: "She hadn't even unpacked as when they found her body a week later her clothes and case were still in the room untouched.
"We are all absolutely devastated to find out what happened. Mum was so sporty, fit, healthy, and loved playing golf.
"If anyone could have got out of that cupboard it would have been Mum.
"The inquest has brought it all back to us. It's been a tough nine months and losing her has left a huge hole in our lives."
On 23 September 2017, Mrs Isherwood went alone to the holiday complex in which she had a timeshare with ex-husband Clive.
The couple, who met while in the police force, split almost 30 years ago but remained on good terms.
Mr Isherwood said the couple had recently sold the time share but his ex-wife had been given vouchers for "a final stay".
"She would've usually gone with friends but nobody could make it during that week so she went alone," he said.
"We think she arrived there early on the Saturday, had gone for a swim and then gone back to the room after she'd checked in."
Her family believe she woke in the middle of the night to use the en-suite bathroom.
It is thought Mrs Isherwood, of Wolverhampton, mistook the door to an airing cupboard for a bedroom door and entered without realising.
When the door closed behind her, it is thought she tried to leave the cupboard but the handle fell off, trapping her inside.
After breaking a pipe she was sprayed with water – leaving her drenched before hypothermia set in.
The inquest was told that banging was heard at the complex, but other guests thought it was maintenance work.
She was later found by workers who noticed a hole in the plasterboard leading to the bedroom where she had tried to break through the wall.
[ad_2]