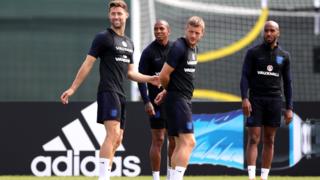 It's been widely reported that England's World Cup squad, with an average age of 26, is one of the youngest in Russia.
What's less well known, though, is that there's a distinctly northern flavour – 13 of the 23 players grew up within 50 miles of the centre of Manchester, while two others, Jordan Henderson and Jordan Pickford, hail from Sunderland.
Analysis of England's previous two World Cup squads shows that if you apply the 50-miles-from-Manchester test, in 2014 there were 10 members of the squad from this corner of England, while in 2010 there were just six.
Another striking fact about the composition of England's 23-man squad is that not one player grew up in the Midlands.
(While some might argue that Gary Cahill, who grew up in north-west Derbyshire, is from the East Midlands, his hometown of Dronfield is only about five miles from Sheffield – the city where the boyhood Sheffield Wednesday fan played much of his football as a youngster.)
Going all the way back to that World Cup in 1966, there's not been a single England squad without at least one Midlands-raised player in it – many have had several.
Even if we exclude Cahill, in 2018 Sheffield alone can boast three of England's 23 players – Kyle Walker, Jamie Vardy and Harry Maguire are all from the steel city.
Spreading the net a little further, fellow Yorkshiremen include Danny Rose, from Doncaster, John Stones, from Barnsley, and Fabian Delph, from Bradford.
If we head westwards into red rose territory, we can visit Manchester, the childhood stamping ground of Marcus Rashford and Danny Welbeck.
The trio who make up what England fans will be hoping is a lucky 13 are Jesse Lingard, from Warrington, Phil Jones, from Clayton-le-Woods in Lancashire, and Trent Alexander-Arnold, from Liverpool.
The number of squad members from London and the surrounding area is similar to four years ago – although the figure is way down from 2010, when 11 of England's players came from this part of the country.
Representing London this time around are Harry Kane, Ruben Loftus-Cheek and Raheem Sterling, who moved to the capital from Jamaica as a young boy.
There are also two players from the city's commuter belt: Dele Alli, who hails from Milton Keynes, and Ashley Young, who grew up in Stevenage in Hertfordshire.
Although it's only about 25 miles due north of west London, Stevenage is officially considered to be in the East, which is the part of England where Nick Pope grew up – he's from Soham in Cambridgeshire.
Completing the squad are Jack Butland, who grew up in Clevedon, near Bristol, and Eric Dier, who, while born up the M5 in Cheltenham, moved to Portugal at the age of seven.
And so if England do continue to make an impression on this World Cup, we might well be crediting a core of northern defensive grit – as well as some London firepower.
England take on Panama in their second match of the 2018 World Cup, at 13:00 BST on Sunday. Full coverage is on BBC1.