[ad_1]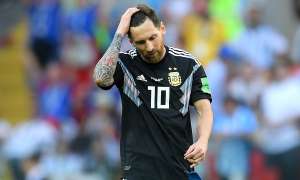 © Fifa/Getty Images
Argentina's Lionel Messi was top of the World Cup dribble charts after one game but bottom for distance covered.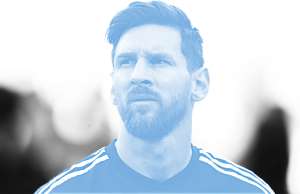 © Getty
Fame, fame, fatal fame. It can play hideous tricks on the brain. Here is an unexpected World Cup statistic. With the opening seven days of Russia 2018 done, one outfield player has run less over 90 minutes than anyone else in any position in any team. His name? Why, it's Lionel Messi! Yes, that Messi: many people's choice as the most gloriously talented player at this tournament; and a man consumed with a sense of voracious personal destiny that he might still drive Argentina on to win this World Cup.
But it seems it will be only at his own speed and in a way that reflects both his extraordinary status within the Argentina team and a sport that is geared more than ever towards the cult of the star.
Related: For all the latest analysis and insight, visit our World Cup hub HERE
Messi will rejoin proceedings on Thursday when Argentina play their second Group D game against Croatia. For now that opening fixture against Iceland stands as a curiosity. Messi's penalty miss took the headlines but behind it are a set of numbers that sketch out a performance of bizarre and sedentary monotony.
Messi ran 7.61km. Five days on this is still less than any other outfield player to complete 90 minutes. Unsurprisingly Messi has also run less without the ball than any other outfield player, less even than Kasper Schmeichel and Hugo Lloris who are, of course, goalkeepers.
 Related: 'I can play with Messi for Argentina' (Perform)
Run more, move more: it is an English footballing obsession, a recipe for success that has harvested precisely zero World Cups over the past 50 years. But in that time even the most gifted of World Cup winners has tended to show some degree of urgency.
Against Iceland Messi made 17 sprints, half as many as Philippe Coutinho and Mesut Özil in their opening games. The word "sprint" is used advisedly here. The quickest player at the World Cup so far is Cristiano Ronaldo who clocked 34kph against Spain, perhaps while he was running off to celebrate one of his goals. Messi's top speed is 25kph, slower than David Silva, Andrés Iniesta and even Sergio Busquets.
On the flipside the things Messi did he did a lot of. These were mainly shooting and dribbling. Despite playing only one game Messi still has four more World Cup 2018 shots than the next player on the list, Denis Cheryshev. Messi is still top of the dribble charts with 15. And despite not running much, he still has more runs into the attacking third than anyone else.
Fixtures, results, player profiles and more: Find everything you need to know about the World Cup on Bing 
There are mitigating factors. This will surely be a one-off in terms of sheer degree. Argentina had an unusually large number of shots as a team and an unusually high ratio of possession. But Messi still ran than less in a whole game than his teammate Lucas Biglia in 53 minutes, and made seven more sprints than Cristian Pavón mustered in 20 minutes.
It adds up to a team geared to an extraordinary degree around their star. Anyone who has watched Argentina over the last decade knows about Messi-dependence. But this felt like reductio ad absurdum, an entire game spent shooting and dribbling, portered around the pitch in his gilded sedan chair, a talent that seemed to have overwhelmed his own team.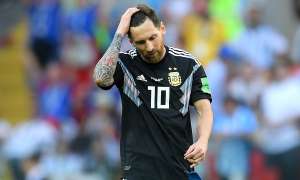 © Fifa/Getty Images
Argentina's Lionel Messi was top of the World Cup dribble charts after one game but bottom for distance covered.


There has been a shift a little further out at this World Cup. The the climate of tearful piety around Messi is striking, with an entire hand-wringing science devoted to speculation over how to get the most out of his precious gifts.
On the other hand, it is very easy to become a little blinded by possibility. This sense of unease was there in comments before the tournament by Jorge Sampaoli, who spoke about Messi in the same way others talk about Jehovah or oxygen or a mother's love.
"We're at the point where Leo is untouchable," Sampaoli told World Soccer magazine, insisting there was absolutely nothing about football he could teach his captain. "His vision is much more developed than ours," Argentina's manager concluded, going on to gush about a time Messi turned up exhausted for training, which "only empowered everyone else".
Which is fine but is it working? The idea of Messi playing free, the sun around which every other body rotates, made for a curious kind of team in Moscow, a group of otherwise exceptional footballers with their heads down, god-blinkers on, servicing the princeling.


© REUTERS/Albert Gea
Iceland's Hannes Por Halldorsson saves a penalty taken by Argentina's Lionel Messi


No other team play like this. The inevitable comparison – deflector shields to maximum, social media mentions muted – is with Ronaldo, who is the star to an even greater degree with Portugal. But somehow it works, helped by the fact Ronaldo plays as a centre-forward, the task for his plus-10 simply to get the ball to the golden goal-hammer. Whereas Messi in his free role is there in every move, a helicopter parent of a footballer, always intervening, a constant presence at the edge of the picture.
There is, of course, a wider point here about star players and about star interference. One of the glories of international football is the enforced human variation. In the past really talented players would often spend years playing with inferior teammates, a natural stage in the climb to the top.
The top players just do not do this any more, are instead whisked away to some suitably elite level at a young age. Messi has played with teammates beneath his level really only when he is with Argentina and only to any great degree in the last two years. It shows.
In addition football culture at every level has a more excitable view of star players now, extension of a wider world intoxicated by celebrity, dazzled by all those brilliant moments on constant repeat.
 Related: Argentina v Iceland player ratings (Read Sport)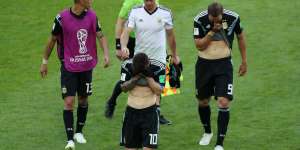 Argentina v Iceland: Player Ratings


In reality there is little in football history to suggest a player such as Messi should be able to turn a moderate team into World Cup contenders. The obsession with the power of one might insist otherwise but this is not how it tends to play out. Diego Maradona is the exception, George Best the rule. Football remains, defiantly, a team sport.
It is still possible Messi will emerge from his chrysalis and assert those all-time powers. He has the talent to make any dynamic work but it is also hard not to wonder what other gears Argentina could find with a little balance, reimagined as something resembling the old-fashioned, relentlessly successful notion of a team.
[ad_2]