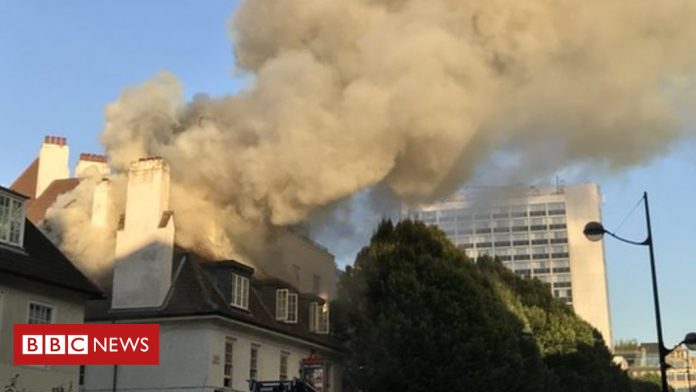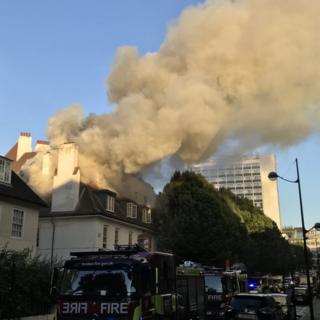 An investigation is under way into the cause of a fire that damaged a pub in central London.
Dozens of firefighters were called on Friday evening to Chalton Street, Euston, at 20:06 BST and spent just under 90 minutes getting the blaze under control.
Witnesses reported seeing flames and plumes of smoke coming from the pub called the Somers Town Coffee House.
The London Fire Brigade (LFB) said there were no reported injuries.
Around half of the roof and second floor of the building were damaged in the fire, according to the LFB.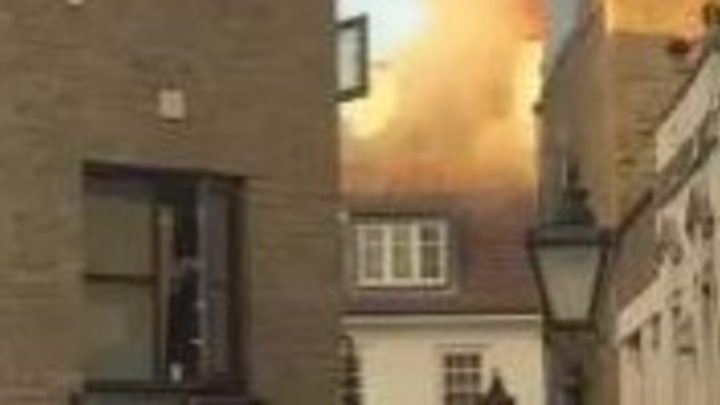 Eighteen 999 calls were made to the brigade who sent 10 fire engines and 72 firefighters to the scene.
LFB's Steve Chesson said: "The pub was open and in use at the time of the fire and a number of people left the building before the Brigade arrived."
'Scary situation'
Corin Faife said he had been in the pub watching the World Cup game between Serbia and Switzerland with his brother when he noticed a group of people outside and saw some smoke.
"Suddenly the fire alarm went off and a staff member told us to get out," the 32-year-old said.
"The bar staff were running around making sure everybody got out.
"It was a pretty scary situation. We grabbed all of our things and ran out."
Tim Ahmeti, who lives nearby, was also watching the football when he realised the pub was alight.
"I was sitting watching the match and I smelt smoke as soon as I opened my front door," he said.
"My whole front street filled with smoke and everyone was standing outside just watching the blaze."
"The staff managed to get everyone out of the pub," he added.