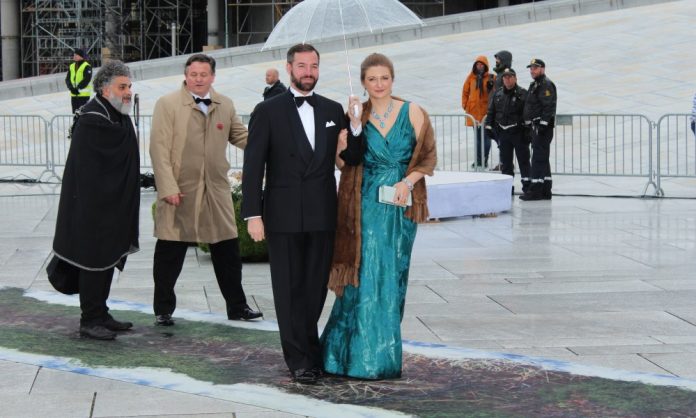 Oskar Aanmoen /
The Grand Ducal Court of Luxembourg announced yesterday that Hereditary Grand Duke Guillaume and Hereditary Grand Duchess Stéphanie would move to London later this year.
Hereditary Grand Duke Guillaume will begin a post-graduate training course at the Royal College of Defence Studies in September, where he will acquire additional expertise for his future responsibilities as Grand Duke. He has previously studied at the Royal Military Academy Sandhurst and completed his university studies in political science at the Institut Albert-le-Grand in Angers. The Royal College of Defence Studies website describes the post-graduate course as followed. "The RCDS course is a post-graduate-level course in international strategic studies, focusing on political, diplomatic, security, social and economic issues at the grand strategic level – the level at which governments take decisions on these issues both nationally and within the international community. Issues are analysed for their implications in terms of strategy and leadership. The focus of study on the main course is practical rather than theoretical."
Hereditary Grand Duchess Stéphanie will go with her husband to London and will use her time there to study art history at the Sotheby's Institute. She already has a master's degree in German philology from the Catholic University of Louvain. Hereditary Grand Duchess Stéphanie is the royal patron of several art-related charities, and she is the President of the Musée d'Art Moderne Grand-Duc Jean (MUDAM).
It was not announced how long they will remain in London and if they will travel back to Luxembourg for certain events and duties.
The Hereditary Grand Duke, Prince Guillaume married Countess Stéphanie de Lannoy in 2012 in the Cathedral of Our Lady of Luxembourg. Stéphanie is a member of a Belgian noble family and is youngest of eight brothers and sisters, and her mother died in 2012, just two months before her wedding. They have no children as of yet, and Prince Guillaume is followed in the line of succession by his brother, Prince Félix who has a daughter (born 2014) and a son (born 2016) with his wife, Princess Claire (née Lademacher).