[ad_1]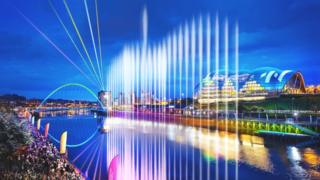 The Great Exhibition of the North, a celebration of art, culture, design and innovation from the north of England, begins on Friday.
Newcastle and Gateshead are gearing up for the 80-day £5m event.
The line-up includes band Maximo Park, Postman Pat, Stephenson's Rocket and Turner Prize-winning artist Lubaina Himid.
But controversy hit the event when BAE Systems withdrew its sponsorship following complaints from artists.
Concerns have also been raised over its projected impact, and that it should be "broader and more diverse".
At 13:00 BST the sound of Teesdale-based artist Steve Messam's Whistle will officially mark the opening of venues and trails.
Street performers will line the Quayside from 19:00, ready for the main opening event an hour later.
It will begin with performances by Maximo Park and poet Lemn Sissay, and will feature what is said to be the UK's largest water sculpture – an 80m-long fountain – on the River Tyne.
Other highlights of the festival will include Robert Stephenson's Rocket, John Lennon's last piano and the original Postman Pat models.
Former Chancellor George Osborne came up with the idea as part of his Northern Powerhouse package.
But Prof John Tomaney from University College London has questioned the likely impact of investment predicted by ministers who "don't know the region".
He said: "The problem arises when ministers start making claims about how this is going to have generational impact and be the biggest event in the country, but clearly that's not possible with the level of resources that are available here."
An "alternative" event, The Other Exhibition of the North, also launches on Friday.
Musician Bethany Elen Coyle said: "We're not anti the Great Exhibition at all, we just think it should be broader and more diverse."
Sir Gary Verity, chairman of the Great Exhibition of the North, said it would "hopefully" do what the Tour De France did for Yorkshire, and bring an "increased sense of pride and confidence and ambition".
[ad_2]