[ad_1]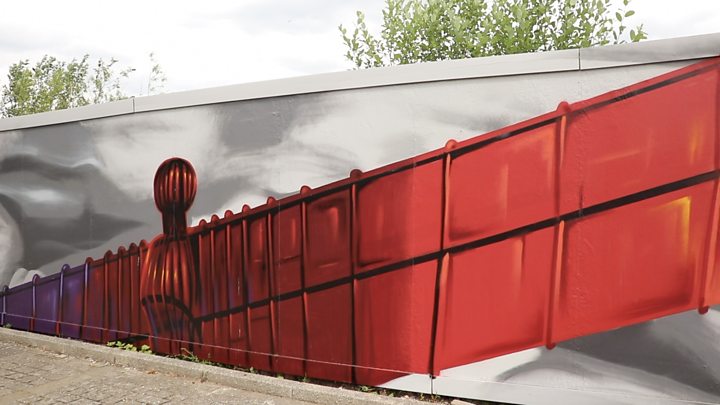 The north of England has always been a place of big imaginations and ingenuity. That pedigree is being celebrated with The Great Exhibition of the North, an 80-day festival of art, design and innovation that is billed as "the country's biggest event in 2018".
It begins in Newcastle and Gateshead on Friday, and visitors can see objects like Robert Stephenson's Rocket, John Lennon's piano and Helen Sharman's space suit.
As well as items that have shaped our past, there will be the chance to examine ideas and technologies that might shape our future, and the work of artists who are based in the north today.
Here, three artists talk about how the north feeds their work, and what it means to them.
Great Exhibition of the North to launch
Live coverage on the BBC
Frances Disley
"There's a lot of freedom," Liverpool-based Disley says when asked why the north is a good place to make art.
She spent seven years in London, but a city like Liverpool doesn't have the fixed pecking orders and expectations of the capital's art establishment. What it does have is a go-ahead ethos, she says.
"Nobody turns their nose up if somebody says, 'OK I'm sick of nothing happening – I'm going to set up a gallery and do something' or 'I've not been busy for a while – I'm going to put a show on'. Lots of DIY things can happen."
Disley is showing two "activated" paintings (which come to life when a performer appears as part of the work) at the Baltic 39 gallery as part of the Great Exhibition of the North.
The cheaper cost of living in Liverpool, compared with London, gives artists more security and makes it easier to focus on their work. "You're not having to work six jobs and it's not exhausting," she says.
Despite that, many graduates decide to move on to brighter lights – but there is "a really supportive community".
"I think that feeds into the work because you're not necessarily afraid of somebody being really critical, so there's some room to make some awful things and play without being scrutinised 100%. That blank canvas is really useful."
Harry Meadley
The north has "this weird dual state of feeling both superior and inferior", according to Leeds-based Meadley.
"You have this sense that northerners do feel like we are 'better than', and we shouldn't have to play into the rules as set by what's perceived as a London-based establishment.
"But all that stuff no-one really cares about. It's very internalised and does hold a lot of people back and in different ways had held me back at times, all of which is ultimately unhelpful."
The 30-year-old lived in the capital for two years before moving back to Leeds and has decided that the art scene in the north is on an equal footing.
"What I had to do was see the north of England as a whole as an equivalent to London," he says. "It's an hour or two to get around from one part to another – it's exactly the same.
"If you view the entire area of the north of England, it is an equivalent in terms of the number of institutions, the number of opportunities and the number of people doing things – it's just slightly more stretched out."
At Baltic 39, Meadley is showing a video work – a fly-on-the wall look at another project he's doing, which is an attempt to exhibit Rochdale Council's entire fine art collection.
The cheaper costs mean artists can be more experimental outside the capital, he says. "There's no way I could be in the position I am now and working the way I am now in London," he says. "If you fit into an easier commercial [art] model, then maybe it's possible – but even then for most that's not a reality."
Becky Peach
Between two pawn shops on Gateshead High Street, in the window of a shop that was once home to Woolworths and Poundland, Becky Peach is putting the finishing touches to her contribution to The Great Exhibition of the North.
The shop has been taken over by The Newbridge Project, which was set up in 2010 to support and exhibit emerging artists, and Peach's installation has taken inspiration from the local surroundings.
"I'm interested in little snippets of shapes of textures around the area that we may be not quite so aware of," the 28-year-old says. "I tend to blow them up or distort them."
So she has made wallpaper using double yellow lines from the streets outside, the "o" from the Woolworths logo, images of brickwork and Perspex and window frames, all twisted and reshaped.
"Part of it is to do with the fact we've become so immersed in technology you can really miss out on a lot of your surroundings," she says.
Peach is based in Liverpool and is director of The Royal Standard, a studio and gallery complex in the city.
"It's just got such a do it yourself attitude," she says. "If things don't exist there then people make them happen. And it's a really affordable place to be working as an artist. My rent's really cheap and I've been able to keep practising since uni for those reasons."
What is the Great Exhibition of the North?
It's lots of hands-on events, performances and exhibitions in venues and on the streets of Newcastle and Gateshead
Organisers hope it will be seen by three million people – including visitors and "virtual audiences"
It was dreamed up by former Chancellor George Osborne in 2014 as part of his Northern Powerhouse plans
It harks back to historic events like the 1851 Great Exhibition in London, which attracted six million people, and the 1929 North East Coast Exhibition
Mr Osborne pledged £20m – £5m for the festival itself and £15m for culture around the north of England
But artist Frank Styles, who's spray-painted a huge mural for the event, said "artwashing" government policies were harming the region
There was also a controversy when artists threatened to pull out when they discovered it was sponsored by defence giant BAE Systems (BAE ended up pulling out instead)
It runs until 9 September
Under-fire sponsor quits Great Exhibition
Will north exhibition evoke earlier era?
Other Great Exhibition highlights
Friday's opening event will feature poet Lemn Sissay, indie band Maximo Park and a giant fountain on the River Tyne
BBC 6 Music DJ Lauren Laverne will curate a series of concerts featuring northern musicians at Sage Gateshead
As well as Robert Stephenson's actual Rocket, at the Discovery Museum on loan from the Science Museum, there will be a virtual reality experience recreating the early steam age
Artist Lubaina Himid, who won the Turner Prize in 2017, has an exhibition inspired by the colourful east African kanga fabric at the Baltic gallery
Opera North will take people on a musical journey along the banks of the River Tyne using songs and stories in Aeons
The Great North Museum will have artefacts and innovation from figures in the north's history of creativity and innovation, ranging from John Lennon to Postman Pat
Three walking routes will link the galleries and museums – the Innovation Trail, the Art Trail and the Design Trail
Follow us on Facebook, on Twitter @BBCNewsEnts, or on Instagram at bbcnewsents. If you have a story suggestion email [email protected].
[ad_2]