[ad_1]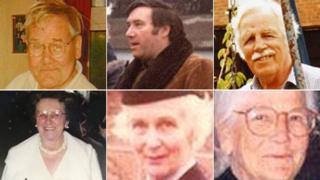 Hampshire police are to hand over the investigation into deaths at Gosport War Memorial Hospital to another force, their top officer has said.
An inquiry found more than 450 patients died after doctors gave them "dangerous" amounts of painkillers.
The report said the quality of three police investigations into 92 of the deaths had been "consistently poor".
The chief constable apologised for the force's "part in the distress caused to families for so many years".
The Gosport Independent Panel's report found whistleblowers and families were ignored as they attempted to raise concerns about the administration of medication on the wards, which was overseen by Dr Jane Barton.
Hampshire Constabulary previously conducted three separate inquiries, but no prosecutions were brought.
'Considerable damage'
Chief Constable Olivia Pinkney said: "Having taken time to carefully consider the matter, I have made the decision that Hampshire Constabulary must take a step back.
"I certainly would never want to absolve my force of its responsibilities, but we cannot hide from the fact that the legacy of what has happened has caused considerable damage to confidence in the agencies involved, including my own.
"The force has always acknowledged that the first two police investigations were not of a high quality.
"The report makes clear a view from the panel that the third did not look widely enough. We accept the panel's findings and I would like to take this opportunity to apologise for our part in the distress caused to families for so many years."
Ms Pinkney said she had instructed the force to prepare to hand the case over to a different lead force and would communicate any progress with families first.
Relatives are calling for an inquiry into actions at the hospital.
Dr Barton was found guilty of failings in her care of 12 patients at Gosport between 1996 and 1999.
She was not struck off the medical register but chose to retire after the findings.
[ad_2]