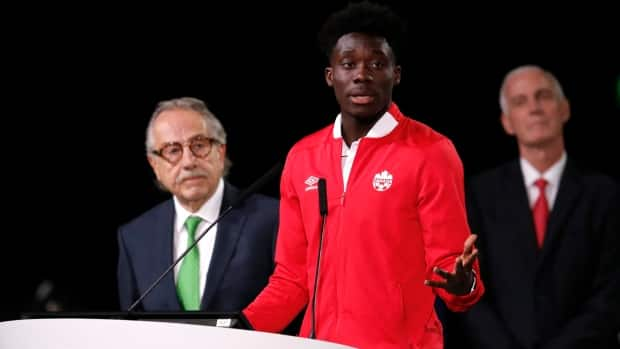 [ad_1]

Prior to last week, the biggest crowd Alphonso Davies had ever spoken in front of was a soccer team.
So it was a baptism of fire when the 17-year-old walked out on stage at the Expocentre in Moscow on Wednesday to address the over 200 delegates at the FIFA Congress and a world-wide television audience.
"Going into I didn't know what I was expecting," Davies said Tuesday after practising with Major League Soccer's Vancouver Whitecaps. "When I walked into the place I was shocked. I didn't think it was going to be that big.
"When I got on stage I was a little bit nervous. Once I started telling my story I got comfortable."
Davies' path to Canada
Davies has quite a story to tell.
His family fled Liberia to avoid a civil war and Davies was born in a refugee camp in Ghana. He moved to Canada with his parents when he was five and grew up in Edmonton.
Davies told the delegates how Canada accepted him and how proud he is to play soccer for his country. When it was announced the United Bid of Canada, Mexico, and the United States had been selected to host the 2026 FIFA World Cup, Davies felt he had played a role in that decision.
"It means a lot," he said, the braces on his teeth showing in his smile. "Going to Russia, talking to the FIFA council, it's a great privilege. I'm glad they picked me to do that and share my story."
Poise under pressure
Many people have commented on Davies' poise under pressure, and one person who wasn't surprised by his performance was Whitecaps' head coach Carl Robinson.
"I thought he handled himself impeccably," Robinson said. "I thought he showed a lot people what I see on a daily basis, his character, his energy.
"I think he delivered a speech that many will be talking about for years to come."
Davies' whirlwind trip to Moscow came during a two-week break in MLS play. In Vancouver's final game he scored a goal and set a franchise record by assisting on three others as the Whitecaps defeated Orlando City SC 5-2. That resulted in him being named the MLS player of the week.
Breaking records
Davies played his first MLS game when he was just 15. He is the youngest player to score a goal in the CONCACAF Champions League, Canadian Championship, and United Soccer League. He earned his first call-up to the Canadian senior national team in June 2017, shortly after receiving his Canadian citizenship.
At the 2017 CONCACAF Gold Cup, Davies became the youngest goal scorer in the history of both the Canadian men's national team and the tournament. He had three goals at the tournament and won the Golden Boot as leading scorer.
At five-foot-11 and 160 pounds, Davies has speed and size. He handles the ball with grace and can dance around defenders. As his talents grow it's considered only a matter of time before he leaves MLS for a European team.
Robinson appreciates the skills Davies possesses but also understands the responsibility the Whitecaps have to development him both on and off the field.
"I know what's ahead for him," Robinson said. "I know the good, the bad and the ugly. He's going to have to experience it all and go through it all. There is not a right way or a wrong way of dealing with it. I'm trying my best to prepare him for what is laying ahead."
'Canada took me in'
Davies admitted he was intimidated when he first began playing against older, more experienced players.
"When I first started I knew that age doesn't matter, but it kind of does a little bit," he said. "If you have the talent to play at that level, you should be playing.
"Now I feel I can compete with them. I can play really well against and with them."
There are plenty of paths open to Davies. The one he knows he wants to travel is the road that leads him to playing for Canada in a World Cup in the country that gave him a home.
"It would mean a lot," Davies said. "When I was younger Canada took me in. Being able to represent my country in a World Cup would be an amazing experience."
[ad_2]