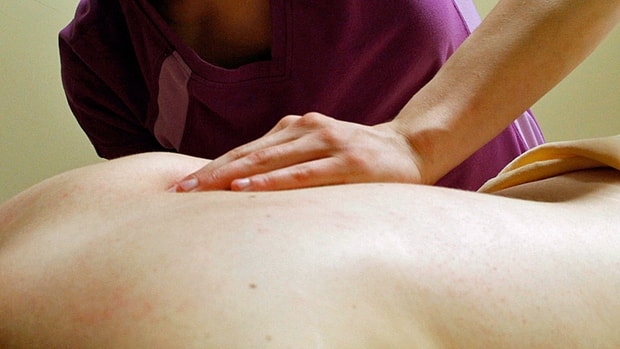 [ad_1]

An advocate for women's sexual safety thinks the city's task force on body rub centres is making progress but there's still more work to do.
Kate Quinn, the executive director of the Centre to End All Sexual Exploitation (CEASE) is pleased the task force is acting on more than 20 recommendations to improve the industry, but she said CEASE is still getting calls from women in trouble.
"Women in body rub parlours phone us — they phone us, they send us photos of the men who have hurt them and there's little that we can do."
She said photos taken from security cameras are often grainy and it's difficult to identify the perpetrators and hold them accountable.
"We have a range of reports from women who've been sexually assaulted, harassed, stalked… and they have no way to hold their perpetrator accountable.
"Because the police can't go out and lay a charge on a person who they can't determine the identity."
Dale Johnson with the Edmonton police human trafficking and exploitation unit said police are called for minor and more serious incidents involving body rub parlour clients and also between staff.
He said police have had 14 calls for assistance directly related to body rub parlours since the beginning of January.
Jonathan Kuyt, who owns a body rub parlour, is confident his business isn't one of them.
Kuyt was at the community and public services committee meeting Wednesday to tell councillors the relationship with the city is helping him improve his business.
I think it strikes all of us as a bit odd or incongruous– Coun . Scott McKeen  
He said he has security cameras with a full-time manager screening clients.
"There's always a filtering process of people coming into the building and I think that's a big thing too that really separates us from the other places."
Kuyt said municipal enforcement officers and the community safety liaison visit the business on a regular basis and meet with staff.
The city's rules, he argues, creates a safety net that street prostitution, escort services and illegal businesses don't have.
"You're alone with the client, you have no recourse if something goes wrong with an interaction with a client — absolutely nothing — you're completely on your own," he said.
"All those things were eliminated by the city's system and the bylaw structure governing body rub centres."
Council approved the task force in 2016 but having a hand in the sex trade industry has been somewhat uncomfortable.
"It's not an easy issue to deal with," Coun. Scott McKeen said Wednesday. 
Coun. Scott McKeen thinks the city's task force on body rub centres is helping make the environment safer for workers.
"I think it strikes all of us as a bit odd or incongruous," McKeen added. "When you're dealing with a harm reduction strategy, it's sort of like trying to find this imperfect middle, that protects the safety of people and discourages criminality."
McKeen said he is satisfied with the progress the city is making on body rub industry.
"We know it's the best possible solution a municipality can come up with to ensure greater safety for people in the sex trade industry."​
The report says the city continues to monitor and enforce bylaws to ensure businesses are properly licensed.
[ad_2]