[ad_1]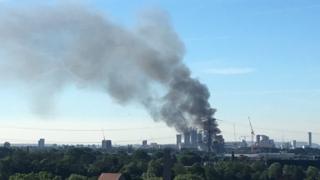 Twenty fire engines and 120 firefighters have been tackling a huge blaze at an industrial estate in Leyton, east London.
The London Fire Brigade (LFB) said it had received more than 70 calls, with the first being made at 05:22 BST.
A two-storey warehouse on Orient Way is on fire and nearby residents have been warned to keep windows and doors shut due to the smoke.
The cause of the fire is not yet known, a spokesperson for the LFB said.
Rod Wainwright, who is at the scene for the fire service, said: "There are large volumes of smoke.
"I would advise all nearby residents in the area to keep their doors and windows closed until the smoke plume has diminished."
[ad_2]