[ad_1]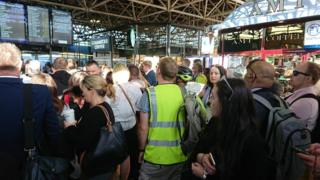 Angry commuters have been "kicking at gates" at a station after signalling problems caused delays to an already troubled line.
Disruption on East Midlands and Thameslink trains during rush-hour was due to a six-mile signalling failure at Luton.
The delays in and out of London come after four weeks of disruption caused by a new timetable.
Network Rail has apologised to passengers who experienced delays.
Thameslink said its trains returned to normal at about 15:55 BST.
Extra patrols were also brought in by British Transport Police (BTP) for "passenger reassurance", they said.
At St Albans City station, witnesses reported an "absolute fiasco", with "platforms crammed", "barriers closed" and "angry passengers kicking down gates".
Dr Peter Saunders said that a gate on platform four had been damaged by "people forcing themselves through".
"All gates [were] then locked and people diverted to [the] platform one entrance," he said.
"One guy tried to climb over then started kicking [the] gate as [a] staff member yelled at him."
Another commuter, Natalie, said: "Absolute chaos at St Albans and no communication.
"[Thameslink Rail] how do you continuously get away with it? Absolute shambles of an organisation."
Thameslink said that "for passenger safety we closed the gates for short periods to manage the numbers of people on the platform" and "passenger announcements explained this".
It has also denied its staff were "abusive" or "yelling", and said they gave passengers information as soon as it was available.
"A few passengers briefly tried to push gates but stopped when our staff explained the situation," said a spokesman.
"Network Rail have now fixed the signalling fault."
Commuters at Harpenden station witnessed a train arrive and pull up, but without the doors opening.
Emily Ketchin said there could have been a "very serious accident as people stepped towards the train" and Charlotte Haklett said "the staff have no idea what's going on. Packed platform, utterly dangerous".
Emily Perry, who was travelling from Bedford into London, said: "It is utterly ridiculous with all the train delays that Thameslink are satisfied with cramming more people in and putting their safety at risk that we are paying the privilege for!
"This has to stop and common sense has to be given."
Vicky Chadwick, a commuter from Bedford, described the current situation as "absolutely disgraceful".
"This situation is impacting lives. Our time with our families is being impacted and I'm seriously considering whether I can continue working in London," she said.
Commuter Neal Cannell said: "If it wasn't for the systemic daily disruption caused by the new timetable I could cope with unplanned issues such as those today.
"But when the service is already a shambles every day, additional delays are adding insult to injury."
A British Transport Police spokesman said: "There have been extra patrols in place to give passengers reassurance. We have not attended any incidents."
[ad_2]