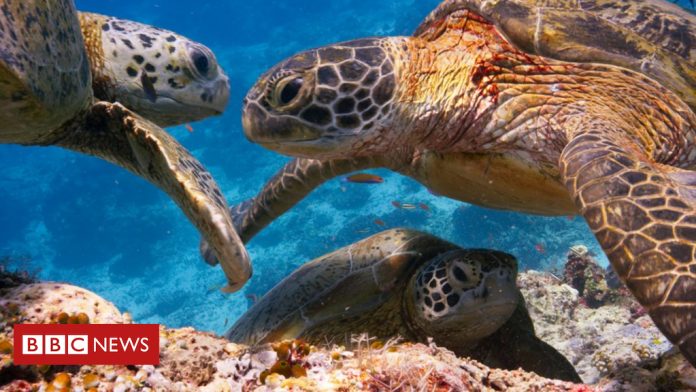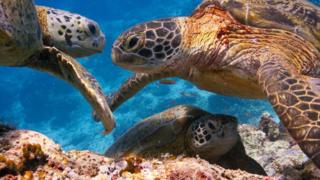 Viewers captivated by wildlife documentaries like Blue Planet II are increasingly disturbing coastal wildlife, conservationists claim.
Cornwall Seal Group Research Trust said the "amazing" programmes may have inadvertently inspired people to get too close to animals in their habitats.
Wildlife disturbances on the Cornish coast rose by a third in 2017 to 150, figures show.
The BBC, which makes Blue Planet, declined to comment.
'Golden rule'
Sue Sayer, from the seal trust, said: "The wonderful recent wildlife coverage on programmes like Blue Planet and Springwatch give us an amazing and close-up insight into previously unknown aspects of our vulnerable wildlife's behaviour.
"In no way am I criticising the coverage in these programmes, I am only emphasising that we, as members of the public, should not aim to replicate this kind of close-up encounter," she said.
Freelance cameraman Hugh Miller, who filmed for Blue Planet II, said it was "disappointing" to hear disturbances were on the rise.
"The golden rule with all wildlife filming is that if you have disturbed the animal in any way it's not natural behaviour.
"What you see on screen may have been filmed from hundreds of metres away."
Wildlife watching tips
Approach slowly and quietly from one side and behind animals, such as dolphins and basking sharks
Don't get too close – about 330ft (100m) is a sensible minimum distance from any animals
If you see any sign of disturbance – move away steadily and quietly
Don't stay too long – 15 minutes is a sensible amount of time
Move away slowly and quietly
Source: The WiSe Scheme
Dan Jarvis, from British Divers Marine Life Rescue South West, said sometimes people "believed they were helping" apparently stranded creatures by encouraging them back into the sea, when they may actually be "pushing them towards death".
The RSPB said there were problems across England.
Gemma Hogg, from the charity, said people were "getting too near seabird colonies either in canoes or through coasteering", as well as "bothering basking sharks and dolphins by getting too close trying to swim with them or see them from a boat".
Sgt Paul Freestone, from Devon and Cornwall Police's Wildlife Crimes Unit said in the past year he had dealt with several reports of drones "sending birds mad" and disturbing breeding grounds, adding that the devices "have become so much more accessible and cheap".
The Cornwall Marine and Costal Code Group has created a new website to promote good practice around wildlife spotting.