[ad_1]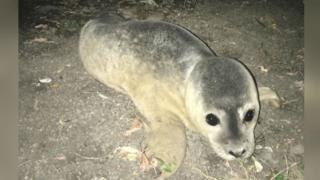 A tiny seal pup was saved from a "long and painful" death after it was spotted abandoned on a river bank.
The pup was only about three weeks old and "extremely underweight and very weak" when rescuers were called to Earith in Cambridgeshire.
It is thought several seals live in the area, about 40 miles (64km) from the sea.
With no parents in sight, the sickly animal was taken to a sanctuary in Norfolk where it is "recovering well".
Volunteers from Fenland Animal Rescue were alerted by a member of the public last Saturday at about 21:30 BST.
The charity's founder Josh Flanagan said while they do not like to remove animals from their native habitat, they will do so "if an immediate risk to life is present".
You may also like:
"In this case, the young pup would have most certainly died from a lack of food and fluids," Mr Flanagan said.
Had it not been spotted, "this little soul most certainly would have suffered a long and painful end", he added, saying it was "a very unusual rescue" for the team.
Mr Flanagan said Earith has had a small population of seals for about 10 years.
He said it is thought several came "over the Wash many years ago and simply couldn't get back, so they've adapted to the quiet Fenland lifestyle".
The tiny pup was transferred to a specialist sea life sanctuary in Norfolk where it is said to be responding well to treatment, and will be returned to the wild once it is old enough to fend for itself.
[ad_2]