[ad_1]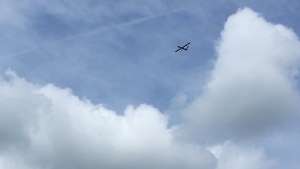 © Provided by Independent Digital News & Media Limited


At first, there is just a loud, persistent buzzing.
Then the camera pans upwards to reveal at least £1m of British military hardware: a Watchkeeper drone, still in its test and development phase, flying over a packed primary school sports day attended by about 100 children and a similar number of adults.
On the same afternoon that the drone flew over Penparc School in west Wales it – or another almost-identical Watchkeeper – crashed just a couple of miles away from the village primary, in the process narrowly missing a 17-year-old boy having his first driving lesson.
For defence watchers, the crash will raise further doubts about the wisdom of the Watchkeeper programme, which has cost at least £1bn, been beset by delays and has now involved five crashes before the drone has even been declared fully operational.


© Provided by Independent Digital News & Media Limited
web-watchkeeper-drone-rex.jpg


For the villagers of Penparc, however, the most pressing concern is their fear that another of the accident-prone drones will crash and hit the primary school or a family home.
The Independent can also reveal that one parent – who has now likened the Watchkeeper drones to "flying bombs" – had complained about them flying over the school about a year before the crash, but she said: "Nothing happened. They spoke to me like I was a stupid woman from west Wales who didn't know what I was dealing with. I was totally dismissed."
Villagers are now demanding that the flight paths of the Watchkeepers are immediately changed to ensure they never go over residential areas or the primary school.
Melanie Davies, 39, who has two children at Penparc School, told The Independent: "Now we have heard about the previous crashes, it beggars belief that these drones were ever allowed to fly over the primary school and residential areas.
Video: New laws introduced to restrict drone use (Sky News)
"If it had crashed at the sports day, it could have killed entire families. There would have been deaths. It would have devastated the whole community. I'm shocked. Everyone is shocked."
She was backed by Eirain James, 65, an opera singer who sent her now grown-up daughter to Penparc primary.
"The MoD may think of this as just a little rural area in Wales," she said. "But people live here, grow up and send their children to school here. Their lives are important."
The Independent understands that when the drone flew overhead at 1.50pm on June 13, in addition to the four to 11-year-olds enjoying the sports day, there was a group of younger, nursery-age children in a mobile classroom.
One parent said the drone flew over the sports day at least twice, with roughly 15-minute intervals between each overflight. Three hours later, at about 4.50pm, a Watchkeeper drone crashed into trees bordering a farmhouse close to West Wales Airport, Aberporth, where the drones are being tested and developed.
The crash was witnessed by a 42-year-old mother who was driving her nine-year-old son, who had attended the sports day. By coincidence, her 17-year-old son was in the car ahead, having his first driving lesson.
The mother, who did not wish to be identified, said: "The drone was enormous, bigger than a car. I saw it pass just a couple of metres directly above my son's car and crash into the trees about 10 metres from the farmhouse.
"I worried that it would hit my son. I was very shaken. I was trembling. I felt physically sick. My son saw it in front of him just before it passed over him. He was a bit shaken, but luckily the driving instructor was wonderful. He just said, 'Well that doesn't normally happen on Wednesday'."
It was only when she saw firefighters using foam to clear up the post-crash fuel spill that the mother realised the Watchkeeper drone ran on fuel rather than being battery powered as she had thought.
She said: "If there is fuel in that drone, it is effectively a flying bomb. If it had crashed at the school the consequences don't bear thinking about. It's very scary."
Speculating on the possible cause of the crash, she said: "It was a windy day with a lot of gusts, and it looked to me like the drone had come in to land and overshot the runway."
Parents told The Independent that the Watchkeepers regularly flew over the school, one saying that she has spotted them about once a week for the five years that she has been collecting her ten-year-old son in the afternoons.
Many parents were until now unaware of the Watchkeeper's crash record and had therefore thought little of the overflights.
The mother who witnessed the crash, however, revealed that about a year earlier she had complained to someone based at West Wales Airport about the drones flying over the school. Her complaints, she said, were not taken seriously. 
The mother said: "Some of my relatives have served in the military. I can see the necessity for them in war. I understand they need to be tested. My only concern is that they should not be allowed to fly over schools.
"When they fly over you hear rev, rev, rev and then nothing, like it is going to stall and crash. I found it really worrying.
"About this time last year, I got through to the base [West Wales Airport], and I was passed to someone further up the line, but they just wouldn't accept any of it [my concerns] at all.
"The man told me the drones don't fly over the school. I told him I had sat waiting for my son that very afternoon and seen a drone directly above the school building.
"He said I was wrong. The impression I got was that they spoke to me like I was a stupid woman from west Wales who didn't know what I was dealing with. I was totally dismissed. Nothing happened. Nothing at all. The drones kept flying over the school."
Local Ceredigion County Councillor Clive Davies has now written to Thales, the French-owned multinational that in 2005 was the leading member of the consortium given the contract to build and develop Watchkeepers for the British Ministry of Defence (MoD).
Mr Davies: "I have asked them to provide a report of the accident and to say whether they can change the flight path during their trials to avoid the school. Once I have their response, I hope to meet with the parents."
The crash is the latest in a string of setbacks to hit the Watchkeeper programme. When the MoD ordered 54 of the drones, the then Labour defence secretary John Reid said that development would cost about £800m and the Watchkeepers would be in service in 2010.
It is thought the drones have yet to be declared fully operational and in November 2017 MPs were told the Watchkeeper programme had so far cost £1.08bn, putting it about £200m overbudget.
The drones, which can be controlled by nearby troops using radio signals, are supposed to help with reconnaissance, target identification and in guiding missiles.
In 2015, however, five years after the Watchkeepers were supposed to have become fully operational, the Bureau of Investigative Journalism reported that their only active service had been just a brief deployment in Afghanistan, weeks before UK troops withdrew in late 2014.
The drones' problems have included a crash at West Wales Airport in November 2014 when operators tried to used a "master override" function to get a Watchkeeper to land quickly before a storm hit.
In November 2015, another Watchkeeper crashed at Boscombe Down airfield in Wiltshire after its onboard computer systems reportedly sent it smashing into the runway.
In September 2017 a chance remark by a rear admiral at a London security exhibition, to the effect that the Watchkeepers were "back in the air", led to the revelation that in 2017 two drones flown from West Wales had crashed into the Irish Sea.
As a result, the Watchkeeper drone fleet had reportedly been grounded until July 2017. The latest accident brings the total number of known Watchkeeper crashes to five.
An MOD spokesperson said: "We recognise that concerns that have been raised in the local community about this incident.
"Safety remains our primary concern and we have paused flying whilst we conduct an initial investigation into what happened."
[ad_2]