[ad_1]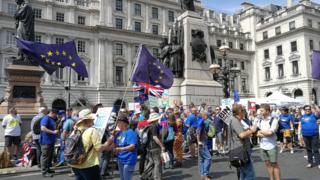 Anti-Brexit campaigners are gathering in central London to demand a final vote on any UK exit deal.
Thousands of people are expected to join the march to Parliament, on the second anniversary of the UK voting to leave the EU.
The organisers, People's Vote, say Brexit is "not a done deal" and people must "make their voices heard".
It comes as senior Cabinet ministers insist the UK is prepared to walk away from talks without an agreement.
Beginning in Pall Mall and ending outside the Houses of Parliament, the protest is part of a "summer of action" by campaign groups designed to increase pressure on Theresa May and Jeremy Corbyn.
Speakers at the demo will include actor Sir Tony Robinson and Gina Miller, who successfully campaigned to ensure the UK could not trigger talks on leaving without the approval of Parliament.
One of the rally organisers, James McGrory from pressure group Open Britain, said there should be "a choice between leaving with the deal that the government negotiates, or staying in the European Union".
"But the most important thing is that this isn't decided just by 650 politicians in Westminster… Brexit is such a big deal [that] it should include all 65 million of us in the country, and that's why people today are marching for a people's vote," he said.
The UK voted to leave the EU by a margin of 51.9% to 48.1% in a referendum held on 23 June 2016.
Britain is due to leave on 29 March 2019, 46 years after it first joined the European Economic Community, the forerunner to the EU.
The government is giving Parliament a vote on the final deal, if one is reached, in the autumn – but it remains unclear what will happen if they reject it.
'Second opinion'
Organisers of Saturday's demo say people "from all walks of life" will be present, demonstrating the "growing popular demand" for another vote.
Protester Colin Hopkins, 62, from Ipswich, said: "It's really important to say we don't dispute the decision, but the process and the destination.
"There isn't any agreement on where we want to go with it, even in the government, and we have a right to a second opinion on that."
Leo Buckley, 16, from Hampshire, claimed "Brexit has stolen my future", adding: "It is stealing it economically…I will struggle to find employment and be worse off when I do."
Janet Watts, 61, from Suffolk, said she joined the march for her mother – who is from Denmark and arrived in Britain in 1953.
"She had her passport stamped when she got off the boat at Harwich, telling her she could stay," she said. "That has been the same until this referendum happened.
"I think it is disgusting putting families at risk and putting her through this at the age of 83."
This week, the government gave more details on how EU citizens can apply to stay in the UK after Brexit.
EU citizens and family members who have been in the UK for five years by the end of 2020 will be able to apply for "settled status", meaning they can live and work in the UK indefinitely.
Brexit: Your guide to EU jargon
Why is Brexit taking so long?
Meanwhile, International Trade Secretary Liam Fox has said Theresa May is "not bluffing" over her threat to quit negotiations.
He told the BBC it was in the interests of both sides to have a deal – but it was "essential" the EU understood that the UK could walk away if the terms offered were not good enough.
"The prime minister has always said no deal is better than a bad deal," Mr Fox said in an interview with the BBC's political editor Laura Kuenssberg.
It was recorded on Wednesday – before Friday's warning from Airbus that it might cease manufacturing in the UK in such a "no deal" scenario.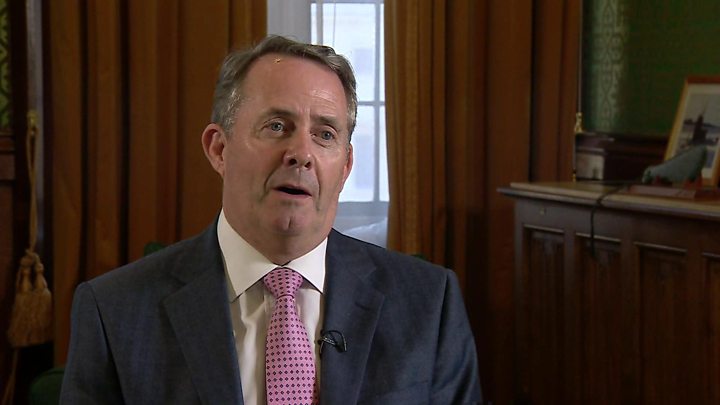 Brexit Secretary David Davis told the Daily Express the prime minister was going to get a "good deal" from Brussels and Brexit was going to be "fantastic".
"The best option is leaving with a good deal but you've got to be able to walk away from the table," he said.
And writing in the Sun, Foreign Secretary Boris Johnson warned the prime minister not to allow "bog roll Brexit" that is "soft, yielding and seemingly infinitely long" – calling for a "full British Brexit" instead.
Mr Johnson said people "just want us to get on with it".
Labour said Mr Fox's comments about a no-deal Brexit were the "height of irresponsibility".
"The next time Liam Fox parrots the slogan no deal is better than a bad deal he should give some thought to the 14,000 people who work for Airbus, and the thousands of other people who have jobs dependent on trade with Europe," said shadow Brexit minister Jenny Chapman.
Both the prime minister and Labour leader have rejected calls for another public vote, saying the will of the people expressed in the 2016 ballot was clear, although many Labour MPs now want another referendum.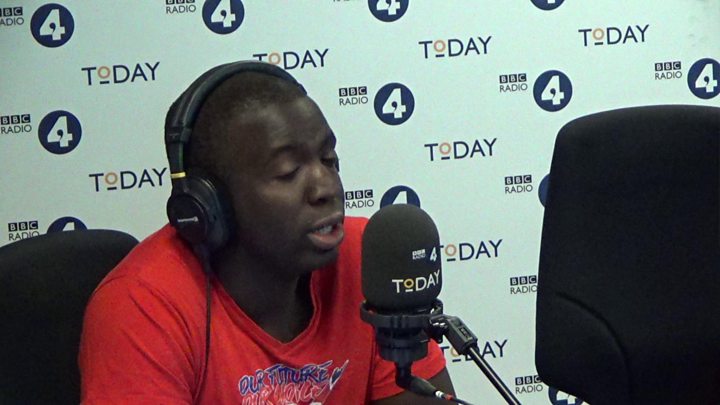 Conservative MP Peter Bone – who supports Brexit – said if there were a second vote, the leave campaign would win again.
"The vast, vast majority of people, whether they are Leavers or Remainers, just want us to get on and come out this dreadful European Union super-state," he said.
"There were 17.4 million people that voted for leave and if there are a few thousand in London complaining about it – that doesn't seem to really make much difference."
The government is giving Parliament a vote on the final deal, if one is reached, in the autumn – but it remains unclear what will happen if they reject it.
[ad_2]