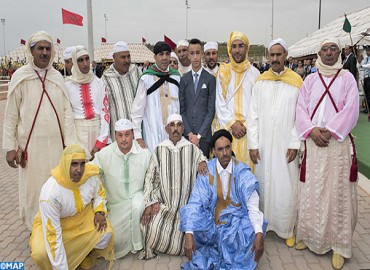 HRH Crown Prince Moulay El Hassan chaired, on Monday, the opening ceremony of the 10th edition of the El Jadida Horse Fair, which will run until Oct. 22 under the theme "Horse Fair: 10 Years of Pride and Passion".
Upon his arrival at the Mohammed VI exhibition park, HRH Crown Prince Moulay El Hassan was greeted by Moulay Abdellah Alaoui, President of the Moroccan Royal Federation of Equestrian Sports (FRMSE) and reviewed a detachment of the Royal Guard that paid the honours.
HRH the Crown Prince was greeted mainly by agriculture minister Aziz Akhannouch, wali of Casablanca-Settat region, governor of Casablanca prefecture Abdelkébir Zahoud, president of the region's council Mustapha Bakkoury and governor of El Jadida province Mohamed Amine El Guerrouj.
Subsequently, at the entry of the exhibition hall, HRH the Crown Prince was greeted by HRH prince Abdulaziz Bin Ahmed Bin Abdulaziz Al Saud, President of the Arabian Horse Organization, Issa Ben Mohammed Al Mohannadi, Chairman of Qatar Racing and Equestrian Club, Nasser Sherida Al Kaabi, Director General of the same club, and Hamad Ben Abderrahman Al Attiyah, chairman of the Qatar Equestrian Federation.
HRH the Crown Prince, afterwards, toured the Fair's different areas devoted to the event's 10th edition, the Kingdom's regions, institutions as the national police, the Royal Armed Forces, the Royal Guard, the Royal Gendarmerie and auxiliary forces, sponsors, handicraft, the international market and breeders.
HRH Crown Prince Moulay El Hassan attended artistic shows and equestrian acrobatics by Moroccan and foreign horse riders and troops.
They are notably parades by horsemen from the Royal Armed Forces, the Royal Gendarmerie and the national police, classical taming by rider and acrobat Mario Luraschi (France), Spanish garrocha horse taming by riders from the Cordoba Equestrian School (Spain), performances of classical and Cossack acrobatics (the Marrakech equestrian art school and the royal company for horse encouragement), and artistic shows put together by equestrian artist Santi Serra Camps (Spain).
Afterwards, HRH the Crown Prince headed to the Tbourida zone where he watched fantasia shows performed by 15 groups representing the different Moroccan regions. On the occasion of the Fair's 10th edition, the best troops of the different Moroccan regions will compete for the "HM King Mohammed VI Tbourida Grand Prix" (second edition).
Held under the patronage of HM King Mohammed VI, the El Jadida Horse Fair is marked by the participation of exhibitors including professionals, associations, and institutions representing some Arab and European countries as Algeria, KSA, UAE, France, Hungary, Cameroon, Mali, Norway, Qatar, Turkey, Senegal, Sudan and Burkina Faso.
The event is meant to shed light on the equestrian heritage, nationally and internationally, and turn the country into a platform to share expertise in horse breeding and equestrian art and sports.    
The Fair features many activities as the International Barb Horse Championship, International Competition for Thoroughbred Horses and the International Showjumping Competition.
-MAP-16/10/17